Close Proximity to Downtown Loveland, OH
Downtown Loveland, Ohio offers a charming and upscale experience for anyone seeking a unique small-town atmosphere. The historic district is filled with artisan shops, galleries, fine dining establishments, and boutique hotels. The close proximity to Cincinnati adds to its appeal – it's just a short drive to the city's many attractions.  
One of the standout features of downtown Loveland is its scenic location. The town is situated along the Little Miami River, which provides a beautiful backdrop for outdoor activities. Locals enjoy hiking, kayaking, and fishing along the river or taking a leisurely stroll through Nisbet Park, which offers lovely views of the water. The park also features a pavilion, picnic tables, and a playground, making it a great spot for families to spend the day.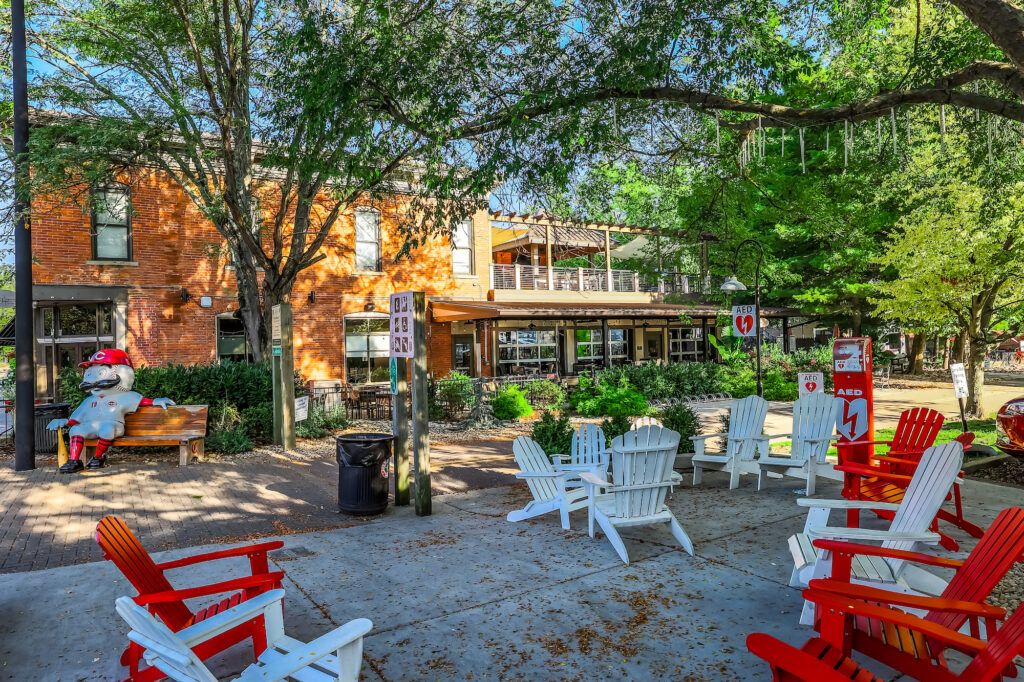 Along the popular Loveland Bike Trail, you will find access to ice cream shops, coffee shops, restaurants as well as picnic tables and restrooms. This trail connects to over 100 miles of paved trails. Bicycles are available for rent. 
Downtown Loveland features a variety of unique boutiques and specialty stores. Art galleries, such as Loveland Art Studios on Main and the Artisan Walk, showcase the work of local artists and offer a chance to purchase one-of-a-kind pieces. The Golden Turtle Chocolate Factory is a must-visit for anyone with a sweet tooth, offering artisanal chocolates and truffles made with the finest ingredients. The area also boasts several high-end clothing shops. Ivy Hills Boutique offers a carefully curated selection of women's clothing, jewelry, and accessories from top designers. For men, Cincy Shirts features a range of apparel, including custom t-shirts and vintage-inspired designs. 
Dining in downtown Loveland is a gastronomical experience with a range of upscale restaurants and cafes. The Works Cafe is a popular breakfast spot, serving gourmet coffee, fresh-baked pastries, and healthy options such as acai bowls and smoothies. For lunch or dinner, guests can choose from a variety of options, including fine dining at Tano Bistro, which offers an extensive wine list and a menu featuring locally sourced ingredients, or Italian cuisine at The Loveland Restaurant, which features a cozy, romantic atmosphere. 
Luxury guest accommodations are also available in downtown Loveland, with the Loveland Station Inn offering a boutique hotel experience. It features six guest rooms, each featuring its own unique décor along with luxurious amenities such as premium bedding, flat-screen TVs, and complimentary Wi-Fi. The inn offers a complimentary continental breakfast, as well as access to a fitness center and rooftop terrace with stunning views of the town. 
Overall, downtown Loveland, Ohio provides a unique blend of small-town charm and luxury amenities. Its scenic location, artisan shops, fine dining establishments, and boutique hotels make it an ideal destination for both relaxing afternoons and enjoyable nights with friends.
Experience Goshen Township
Goshen Township, Ohio is a suburban community located in Clermont County, in the southeastern region of the state. The township covers an area of approximately 30 square miles and has a population of around 18,000 residents. 
One of the most beloved features of Goshen Township is its friendly atmosphere. The township is home to a number of parks and recreational areas, including Goshen Township Park, which features a playground, picnic areas, and sports fields. The park also hosts a variety of community events throughout the year, such as concerts and festivals. 
Goshen Township includes Goshen Local Schools and Milford Exempted Village Schools. These schools offer a range of extracurricular activities, including sports, music, and theater. Stone Pillars Farm is located in the Goshen Local School District. 
Goshen Township is served by several highways, including Interstate 275 and State Route 28. This makes it easy for residents to commute to other areas in the region for work or leisure activities. 
Overall, Goshen Township, Ohio offers a suburban lifestyle with a variety of amenities and attractions. Its excellent parks and proximity to Cincinnati make it an attractive option for those seeking a peaceful community with easy access to urban amenities. 
We're available to answer your questions and provide detailed information about the community, the surrounding area, and the process of building a new home with any of the three builders available in this development.